TVP SERVICES, created by...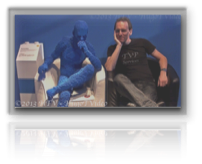 Biography (short) : Hugo Teugels
Trying to be creative with images & sound, I always loved taking pictures and making video clips. Some projects however turned into more...
This resulted in the short film "SET ME FREE" (2011), an independent,
non-profit short film I directed. What set this film apart from other films
was the 'arty' approach, inspired by the art-academy in my hometown,
university city Leuven, and the direct management creation, all in-house
(from script, filming, editing till the production,...), with only a few people
involved in the whole project. It was selected more than 10 times and
included in the short film corner in Cannes that year (film festival).
I developed a passion for photography, which turned into a passion for
film making. Through the local Art Academy I learned to 'look' at the world
and was able to develop my skills in filming, editing, directing, post-
processing and producing, resulting in some art-videos, music videos, some trailers and 3 short films.
In 2014 the second short film "HOKO-BANG-SING" was released, more than 25x selected and winner of a People's choice award in Brisbane, Australia. 'Best Director' @ NEZ Film Festival (India) and WINNER Best Fiction Short Film @ International Euro Film Festival, Spain. More on www.hoko-bang-sing.com
As I was always passioned by moving images (from local artwork to Hollywood blockbusters), editing has become my hobby and trying to be creative my mission... I added a film-directing experience @ NYFA (the New York Film Academy) to my C.V.. Based on this New York-project, this new short was released in 2016 : "THE QUEEN", about a mysterious encounter in Manhattan. My writing of this script during my New York stay, was inspired by "The Sixth Sense", "Vanilla Sky", "The Dark Knight" movies and a little bit of "The Others" and "Inception"…
In 2016-2017 Los Angeles came more and more in the picture. A new short film was finished : "LIGHTER THAN WATER" and is being prepared for the film festivals. A new project ("AnoMiC") is in development (2018).





Review of THE QUEEN, in "InDVue"
"An incredible short film from Belgium, by multi-award winning director, writer, editor and cinematographer Hugo Teugels.
(-> the first 7 Minutes)
"It's the feeling that you get from The Queen"...